Employee Benefits and Payroll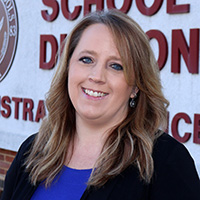 Employee Benefits and Payroll Specialist
jbishop@salem.k12.va.us
Mark III Employee Benefits
Mark III Employee Benefits is Salem City Schools Flexible Benefits plan provider. Mark III Employee Benefits is available to help guide you through the benefits offered by Salem City Schools as well as complete your open enrollment elections for the upcoming plan year. Please visit
https://mymarkiii.com/salemcityschoolsva/
to find more information such as benefits guide, product videos, plan forms, etc.
VRS members have online access to their member information through myVRS on the VRS website. Through myVRS, members can:

View account information, including service and member contributions, purchase of prior service credit, employment and compensation history and basic group life insurance coverage

Download annual Member Benefit Profile of VRS benefits

Correct or change contact information.

Create future retirement benefit estimates and plan options
VRS Optional Group Life Insurance
Through the VRS Optional Life Insurance program, employees may purchase additional life insurance at group rates for themselves and their family. No evidence of insurability is required if the Optional Life Insurance is purchased within 31 days of employment.
Salem City Schools currently have two medical insurance plans through Anthem Blue Cross Blue Shield, which include prescription and vision benefits. All plans use the same KeyCare PPO/BlueCard National PPO network of providers. Coverage is offered to employees, spouses, and dependent children to age 26.
Anthem KeyCare 30

Anthem HDHP + HSA
Anthem - Transparency in Coverage (TiC) Machine Readable Files (MRF)
Salem City Schools offer eligible employees dental insurance through Delta Dental. Coverage includes preventative care, basic care, major care and orthodontia.
Flexible Spending Accounts
Salem City Schools offers three Flexible Spending Accounts (FSAs): Health Care FSA, Dependent Care FSA, and Limited Medical FSA. These accounts allow you to put aside pre-tax money to help cover medical, dental, vision expenses, as well as work-related child and adult care expenses.
Salem City Schools offer leave to eligible employees. Please refer to school division policies for specific descriptions.

Personal Leave

Vacation Leave

Sick Leave

Family & Medical Leave

Leave Without Pay

Holidays

Jury Duty / Court Appearances
Benefit Resource Center (BRC)
Benefit Resource Center (BRC) provides Personal Benefit Advocates who are familiar with Salem's insurance plans, know our carriers, and are committed to assisting employees in resolving complex issues you may face. Benefit Resource Center (BRC) is a toll-free one-call benefits information hotline specifically designed to act as a single point of contact for all benefit and claim issues.

answer benefit plan/policy questions

assist with eligibility and claim problems with carriers

provide claim appeals information and explain the process

explain allowable family status election changes

provide vendor plan contact information

To speak to your Personal Benefit Advocate, please call 1-855-874-6699.
Virginia Retirement System
All full-time employees are members of the Virginia Retirement System (VRS). VRS is a defined benefit program sponsored by the Commonwealth of Virginia and is funded by contributions from employee members and the school division. Plan handbooks, forms, and more resources are available on the VRS website at http://www.varetire.org/.

Plan 1 Member – You are in Plan 1 if your membership date is before July 1, 2010 and you were vested (you had at least five years of service credit) as of January 1, 2013.

Plan 2 Member – You were not vested (you had less than five years of service credit) or your membership date is on or after July 1, 2010.

Hybrid Plan Member – You are covered under the Hybrid Plan if your membership date is on or after January 1, 2014. The hybrid retirement plan combines the features of a defined benefit plan and a defined contribution plan.
VRS Basic Group Life Insurance
As a part of membership in the Virginia Retirement System (VRS), employees are entitled to life insurance coverage provided through Minnesota Life Insurance Company. This is a paid benefit by the Salem City Schools.
VRS Hybrid Plan members are provided disability benefits. These benefits will provide income protection if you cannot work because of non-work related or work-related illness, injury, etc.
Health Savings Account (HSA)
An HSA, or health savings account, is a unique tax-advantaged account that you can use to pay for current or future healthcare expenses. When combined with a qualifying high-deductible health plan, it offers you savings and tax advantages that a traditional health plan can't duplicate.
Employees and their dependents that are enrolled in the school divisions' health care plan have access to the Employee Health Clinic (managed by Synergy Healthcare).

To schedule an appointment online please visit www.timecenter.com/cityofsalem or call 540-378-0190.
Section 125 is a provision in the Internal Revenue Code that allows employers to offer employee select qualified insurance benefits to be purchased with before-tax dollars, thereby reducing their total taxable income and increasing your spendable/take-home income. Salem City Schools provides a participating Section 125 plan for the benefits of its employees and provides access to Mark III to answer questions and make sure your election of pre-taxed benefits is correct.
457(b) and 403(b) Retirement Savings Plans
Salem City Schools offer a variety of voluntary plans to help employees achieve their retirement goals. Approved payroll deduction vendors offer both a deferred compensation 457(b) plan and a tax-deferred account 403b to help you save for your future and meet your retirement savings goals.
Voluntary Payroll Deductions
Salem City Schools make available vendors that offer a variety of products that can be payroll deducted.
The Employee Assistance Program (EAP) is available to all Salem City School employees. The Advantage EAP is a confidential referral and treatment service available to employees, spouse, and children. The program provides counselors and other specialists offering a wide range of services. Individual and group counseling is available for the employee and his/her family.
Carilion EAP goes into effect July 1, 2023. Employees and dependent family members will have up to four sessions per episode or problem annually. Sessions will be held at the provider's office, via HIPAA compliant telehealth, or by telephone as appropriate. The number to access the benefit is (800) 992-1931 or (540) 981-8950.
There are benefits that can be accessed online by all employees.
Carilion Clinic Website provides general resources and information about the EAP program as well as the phone numbers to call to schedule an appointment. It also includes archived newsletters and educational videos. - www.carilionclinic.org/EAP
Life Advantage Website provides employees with webinars, tips, and resources on a variety of topics such as relationships, financial, health, personal growth, and even recipes! This is accessed using the following link, or by using the general EAP link above and clicking on "Life Advantages." You will need the username and password on the attached flyer to access these extra resources. https://www.personaladvantage.com/portal/landing
Each month, the SCS Human Resources department will share newsletters and other information provided by Carilion EAP.
Please see some anticipated questions and answers below.
Question: So I can't see the counselor I've seen before at Psychological Health Roanoke?

Answer: You can, but it's not covered by the division's EAP program, so it would run through your health insurance for cost sharing purposes.

Question: What if I'm in the middle of my 3 current sessions? How can I still see my old counselor?

Answer: You would continue to reach out to Psychological Health Roanoke to schedule those appointments and it would be covered by your health insurance including any portions paid by you
Services include:

Individual and/or Family Problems

Alcohol or substance abuse

Premarital, marriage, and divorce counseling

Financial or legal concerns

Grief

Difficulties at work

Physical health problems

Anxiety, depression or stress

Or any other type of personal problems.