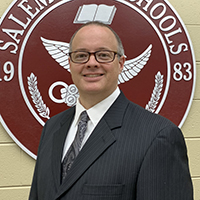 Dr. Randy Jennings
Director of Special Education and Student Services
rjennings@salem.k12.va.us
Administrative Secretaries: Susan Young, Caren Saunders, Receptionist: Teresa Walker, Grant Specialist: Mathew George, Psychologists: Kerry Sweeney, Paige Nielsen, Deborah Coker, Teacher of the Visually Impaired: Lucinda Casey, Coordinator of Alternative Education and Attendance: Dr. Elizabeth Arthur, Parent-Teacher Resource Center Coordinator: Ruth Moran
To request accommodations or an interpreter at a school meeting or event, please contact Randy Jennings at
rjennings@salem.k12.va.us
(please provide one week notice)
What is Child Find?

In accordance with Regulations Governing Special Education Programs for Children with Disabilities in Virginia (2010), each local school division shall maintain an active and continuing child find program designed to identify, locate, and evaluate those children residing in the jurisdiction who are birth to age 21, inclusive, who are in need of special education and related services (34 FR 300.102 and 34 300.111).

Who do I contact if I'm concerned about my child?

If you have questions or comments about Special Education in Salem City Schools or are concerned about your child, call Dr. Randy Jennings, Director of Student Services, at (540) 389-0130.

Tell me more about Child Find.

Virginia Law states that local school divisions must identify and evaluate
children and youth ages birth through 21 years who may be disabled and need related services. If eligible, disabled children ages 2 through 21 years must be provided a Free Appropriate Public Education (FAPE) in the least restrictive environment (LRE).

Children with disabilities may be classified as having: Autism, a Developmental Delay,a Hearing Impairment, Deaf/Blind, a Speech or Language Impairment, an Intellectual Disability, an Emotional Disability, a Specific Learning Disability, an Orthopedic Impairment, a Visual Impairment, an Other Health Impairment, and a Traumatic Brain Injury.
Salem City Schools have many programs available to meet the individual and varied needs of students with disabilities.

How is it Determined that a Child May Need Special Education?

Before a student can receive special education services, a comprehensive evaluation must be conducted.
Whenever a child is having a school-related problem, and prior to any
individual testing, the parent is notified and written permission is obtained.

Information from the comprehensive evaluation is discussed at a special meeting with the school staff and the child's parents to determine if the child has a disabling condition that adversely affects educational performance and requires specialized instruction.
Hearing and Visually Impaired Students
The Code of Virginia (section 22.1-217.01) requires school boards to provide information to parents of those students who are identified as hearing impaired or visually impaired. guidance documents and other resources are available at the Virginia Department of Education's (VDOE) website. To find more information, please click on the below links.
The Virginia Department of Education (2011) identifies homebound instruction as a service that "…shall be made available to students who are confined at home or in a health care facility for periods that would prevent normal school attendance based upon certification of need by a licensed physician or licensed clinical psychologist. For students eligible for special education or related services, the Individualized Education Program committee must revise the IEP, as appropriate, to direct off-site instruction."

Students approved for homebound instruction work with a licensed teacher in their home for a set number of hours per week. The homebound teacher works with the classroom teacher to provide essential instruction in the core subjects to each student. A limited number of courses are provided to high school students on homebound instruction. To find out more information, please click on the above link.
The I'm Determined project is based on research that has proven that students with good self determination skills successfully complete high school and go on to be successful in higher education or on the job. To find out more information, please click on the above link.
Special Education Procedures
It is the policy of Salem City Public Schools to adhere to federal and state regulations as they have been promulgated by the United States Department of Education and the Virginia Board of Education to implement special education programs for children with disabilities. Specifically, these mandates are detailed in the Regulations Governing Special Education Programs for Children with Disabilities in Virginia. and any additional documents that the Virginia Department of Education publishes to address federal and state statutes and regulations for delivering special education and related services to children.

The Special Education: Local Policies and Procedures for the Implementation of Special Education were approved on October 13, 2020. Questions related to this document should be directed to Randy Jennings, Director of Student Services. He may be contacted by phone at (540) 389-0130 between the hours of 8:00 AM and 5:00 PM, Monday through Friday.
You may view a copy of the Special Education Procedural Safeguards by clicking on the following link:
https://www.doe.virginia.gov/special_ed/regulations/state/index.shtml
Special Education Advisory Committee
Local special education advisory committees (SEACs) have a long history in Virginia. Every school division is required to have a SEAC as detailed in Regulations Governing Special Education Programs for Children with Disabilities in Virginia, effective January 25, 2010.

The major purpose of SEACs is to provide an opportunity for parents and other school board appointees to have a voice in the way school divisions provide services to students with disabilities.

What is the Local Special Education Advisory Committee?

The Local Special Education Advisory Committee is appointed by the school board. Moreover, the committee advises the school board through the division superintendent concerning special education services.

Who comprises membership on the committee?

The majority of the committee shall be parents of children with disabilities or individuals with disabilities. The committee shall include one teacher. Additionally, local school division personnel shall serve as consultants to the committee.

What are the functions of the committee?

The committee a) advises the local school division of needs in the education of children with disabilities; b) participates in the development of priorities and strategies for meeting the needs of children with disabilities; c) submits reports/recommendations; d) assists in the local school division in interpreting plans to the community for meeting the special needs of children; e) reviews policies and procedures for the provision of special education prior to submission to the local school board; and f) participates in the review of the local school division's annual plan.

When are the meetings and who can attend?

The meetings are held at least 4 times a year. The meetings are currently scheduled for 11:30 am on:

September 20th
November 22nd
January 31st
March 21st
April 18th
These meetings are open to the public
Additionally, the meetings are held at Salem City School Board, 510 S. College Avenue in Salem.

What are the names of the committee members and how can I express my view to the committee?

Members include:
Sandra Elliott; Debra Schmidtt; Sharon Paisley; Ruth Moran, Coordinator of the Parent-Teacher Resource Center; Lindsey Smart, Teacher; Teresa Sizemore-Hernandez, School Board Representative; and Randy Jennings, Consultant. Participating agencies include Terry Thomas, TAP Head Start; Valerie Hughes, Easter Seals UCP; and Wanda Bass, Goodwill Industries of the Valleys, Inc.

You may contact Susan Young, Special Education Secretary, at (540) 389-0130 to leave a message for the committee.